Growing Pains is a 80s television sitcom that aired on ABC from September 24, 1985, to April 25, 1992 that resides around the Seaver family at 15 Robin Hood Lane in Huntington, Long Island, New York.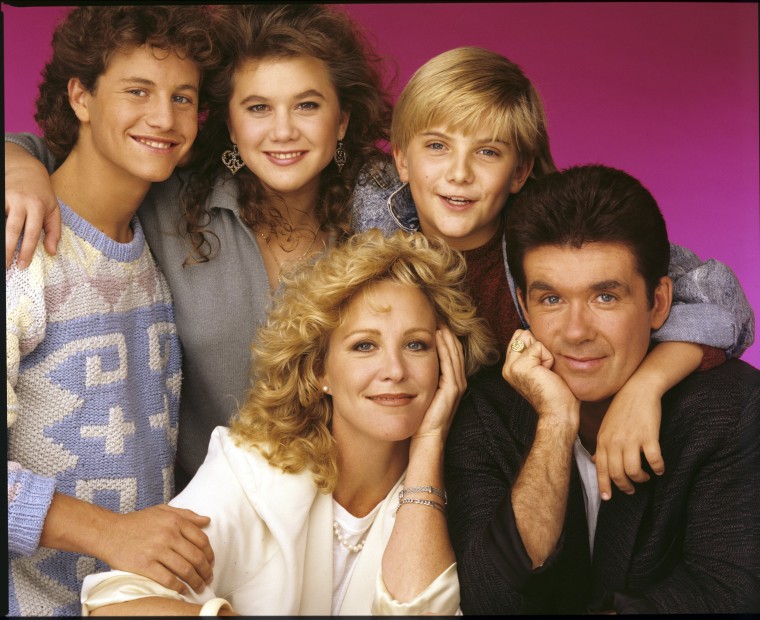 Cast
Alan Thicke as Dr. Jason Seaver
Joanna Kerns as Maggie Seaver
Kirk Cameron as Mike Seaver
Tracy Gold as Carol Seaver
Jeremy Miller as Ben Seaver
Kristen and Kelsey Dohring as Crissy Seaver (1988-1990)
Ashley Johnson as Crissy Seaver (1990-1992)
Josh Andrew Koenig as Richard Stabone "Boner" (1985-1989)
Series Run
First Telecast: September 24, 1985
Last Telecast: August 27, 1992
Broadcast History
November 1980- September 1981, ABC, Thursday 8:30-9:00pm
September 1985- March 1986, ABC, Tuesday 8:30-9:00pm
May 1986- March 1988, ABC, Tuesday 8:30-9:00pm
March 1988-August 1990, ABC, Wednesday 8:00-8:30pm
August 1990- August 1991, ABC, Wednesday 8:00-8:30pm
August 1991- September 1991, ABC, Friday 9:30-10:00pm
September 1991- January 1992, ABC, Saturday 8:30-9:00pm
February 1992- April 1992, ABC, Saturday 9:30-10:00pm
May 1992- July 1992, Wednesday 8:30-9:00pm
July 1992- August 1992, ABC, Thursday 8:30-9:00pm
Plot
Dr. Jason Seaver (portrayed by Alan Thicke), a psychiatrist, works from home because his wife, Maggie (Joanna Kerns), has gone back to work as a reporter. Jason has to take care of the kids: ladies' man and rebellious troublemaker Mike (Kirk Cameron), bookish honors student Carol (Tracey Gold), and rambunctious Ben (Jeremy Miller) who follows Mike as his role model and become a troublemaker too.
More info at https://en.wikipedia.org/wiki/Growing_Pains
Theme Song and Opening
""As Long As We Got Each Other," sung by B.J. Thomas and
Jennifer Warnes.
Growing Pains Theme Song Lyrics
Show me that smile again.
Ooh show me that smile.
Don't waste another minute on your crying.
We're nowhere near the end.
We're nowhere near.
The best is ready to begin.

As long as we got each other
We got the world
Sitting right in our hands.
Baby rain or shine;
All the time.
We got each other
Sharing the laughter and love. .0000000000000