Cheers is a 80s sitcom television series that ran on NBC from September 30, 1982, to May 20, 1993. The show is set in a bar named "Cheers" in Boston, Massachusetts, where a group of locals meet to drink, relax, and socialize.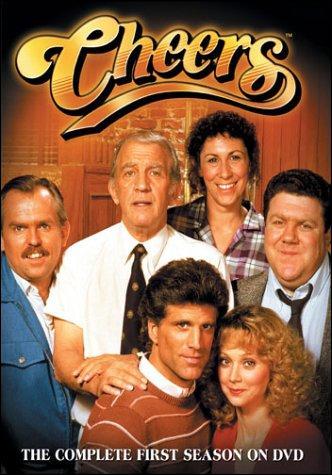 Cast
Ted Danson as Sam Malone
Nicholas Colasanto as Ernie "Coach" Pantusso (1982-1985)
Shelly Long as Diane Chambers (1982-1987)
Krisite Alley as Rebecca Howe (1987-1993)
George Wendt as Norm Peterson
Rhea Pearlman as Carla Tortelli LeBec
John Ratzenberger as Cliff Clavin
Woody Harrelson as Woody Boyd (1983-1993)
Kelsy Gramer as Dr. Fraiser Crane (1984-1993)
Bebe Neuwirth as Dr.Lilith Sternin (1986-1993)
Series Run
First Telecast: September 30, 1982
Last Telecast: August 19, 1993
Broadcast History
September 1982- December 1982, NBC, Thursday 9:00-9:30pm
January 1983- December 1983, NBC, Thursday 9:30-10:30pm
December 1983- August 1993, NBC, Thursday 9:00-9:30pm
February 1993- May 1993, NBC, Thursday 8:00-8:30pm
Plot
At the center of the show was the bar's owner and head bartender Sam Malone, a womanizing former relief pitcher for the Boston Red Sox. The show's ensemble cast included waitresses Carla Tortelli and Diane Chambers, who would be Sam's love interest for the first several seasons of the show, as well as a dimwitted second bartender, Coach Ernie Pantusso for the first three seasons, and Woody Boyd for the rest of the series, and regular bar patrons Norm Peterson, Cliff Clavin, and Frasier Crane.
More info at https://en.wikipedia.org/wiki/Cheers
Theme Song
"Where Everybody Knows Your Name" by Judy Hart Angelo and
Gary Portnoy, sung by Gary Portnoy
Cheers Theme Song Lyrics
Making your way in the world today
Takes everything you've got;
Taking a break from all your worries
Sure would help a lot.
Wouldn't you like to get away?

All those night when you've got no lights,
The check is in the mail;
And your little angel
Hung the cat up by it's tail;
And your third fiance didn't show;

Sometimes you want to go
Where everybody knows your name,
And they're always glad you came;
You want to be where you can see,
Our troubles are all the same;
You want to be where everybody knows your name.

Roll out of bed, Mr. Coffee's dead;
The morning's looking bright;
And your shrink ran off to Europe,
And didn't even write;
And your husband wants to be a girl;

Be glad there's one place in the world
Where everybody knows your name,
And they're always glad you came;
You want to go where people know,
People are all the same;
You want to go where everybody knows your name.

Where everybody knows your name,
And they're always glad you came;
Where everybody knows your name,
And they're always glad you came;
(fade out)